Hello, friend!
It's been a long while since Anime Fridays! But I'm back with an anime review for you today!
This Anime Friday is all about the anime DAYS! It's a soccer* sports anime with 24 episodes in total (and a few OVAs of which only one I was able to track down and watch). It's produced by Studio MAPPA and the manga on which it is based on is still on-going.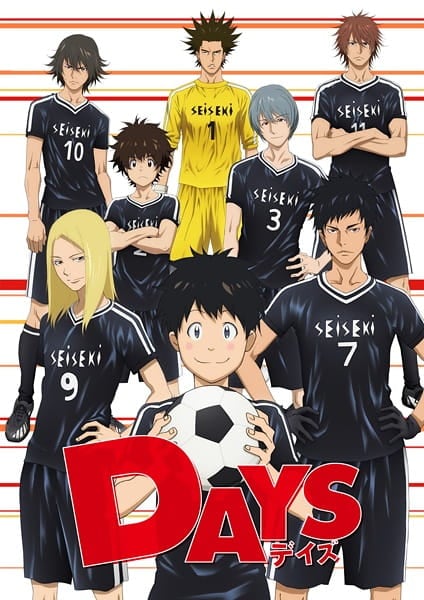 *soccer = football (for people who don't call it soccer…which apparently is a good enough portion of the world) – fun fact of the day, I guess 🙂
Here's a little something new for those too lazy to read – i.e. "The Run Down":
Anime: DAYS
Genre: Sports (soccer)
Ep: 24 + OVAs
Studio: MAPPA
Manga: Yes (on-going)
TL;DR: Watch it for the warm humor and well-paced tale of lovable high school soccer underdogs!
For those not lazy and want to get a full on review, as is tradition, here is the lovely synopsis:
The series is about two boys named Tsukushi and Jin. Tsukushi is a boy with no special talent or traits while Jin is considered a soccer genius. On one stormy night, Jin meets Tsukushi, and they get dragged into the world of soccer. 

(From MAL News)
To add onto it:
It's a sports slice of life following the underdogs of Seiseki high school and their dream of representing Tokyo in the Nationals, all with on-point humor, cuteness and angst thrown in for flavor. 
Now onto the details of why this is such a good anime!
Disclaimer: All the views presented here are my own opinions. None of the material written here is to offend anyone in anyway. Feel free to agree or disagree respectfully if you wish.